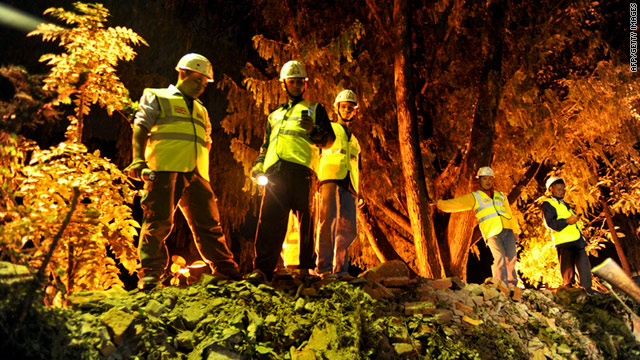 New Delhi (CNN) -- At least 11 people -- six in India and five in Nepal -- died when a magnitude-6.9 earthquake struck the northern Indian state of Sikkim near the border between the two nations Sunday night, police said.
Three died in Nepal's capital of Kathmandu and two in the town of Dharan, about 217 miles to the east, police said in a statement. About a dozen people were injured when they jumped from their houses during the quake, police said.

The three in Kathmandu died when a wall of the British embassy collapsed, according to Kedar Rijal, Kathmandu police chief. They included an 8-year-old girl, her father and a third person.
The British Foreign Office confirmed a "compound perimeter wall" of the embassy collapsed, adding that its ambassador has met with the community and offered condolences.
In India, six people died and 33 were injured, said Karma Gyatso, Sikkim's chief secretary. At least two buildings have collapsed, and others developed cracks, he said. The damage was still being assessed as first-responders and others worked to find and help survivors, he said.
By early Monday, 300 civilians had been rescued in one such effort near Sikkim's border with China, said Indo-Tibetan Border Police spokesman Deepak Kumar Pandey. Some 22 tourists -- all of them Indians -- were also rescued in the same area.
The deaths and damage came after a total of three quakes struck the region in rapid succession in a mountainous region.
The U.S. Geological Survey initially put the largest quake at 6.8 magnitude, later upgrading it to a 6.9, and the other two at magnitudes 4.8 and 4.6. All three occurred within an hour and 15 minutes, the U.S. agency said. The India Meteorological Department said the quakes were 6.8 magnitude, 5.7 magnitude and 5.3 magnitude.
The quakes set off landslides, which -- along with heavy rains -- were blocking roads and hampering rescue efforts, said Pandey. He expressed fears that the toll, as far as deaths and damage, could be "more" than is now known, anticipating more will be known once the sun rises Monday.
Already, authorities have reported power outages and downed phone lines in Sikkim.
Emergency crews were dispatched from different locations to the region, India's home ministry said in an alert to reporters. At least four fighter jets were carrying rescue officers to a neighboring region, where they travel by road to Gangtok, Sikkim's capital, according to the alert.
As for outside help, World Vision announced Sunday that it "has put its emergency response team in India on standby" to provide relief as requested. The non-profit organization reported that the quake cut off phone communication and electricity in parts of Sikkim and West Bengal provinces.
"The whole earth was shaking and it lasted for two minutes," Paul Mathai from World Vision, who was 130 kilometers (80 miles) from the epicenter, said in a statement from the organization. "We were panicked, but all of us are safe."
No tsunami warning was issued. The strongest earthquake, which struck at 6:10 p.m. local time (8:40 a.m. ET), was 12.2 miles below the earth's surface, according to the USGS.
That quake's epicenter was about 42 miles from the city of Gangtok and 169 miles east of Kathmandu, according to the geological survey.